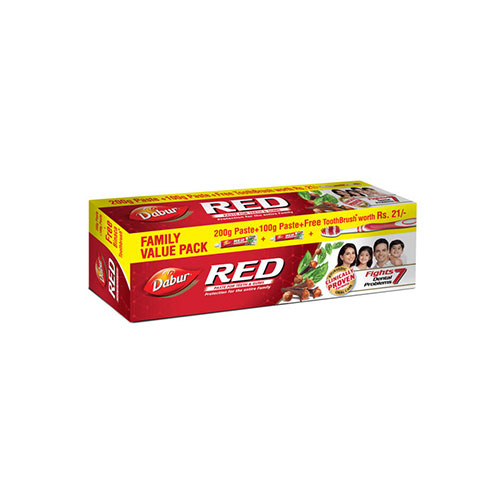 Dabur Red Toothpaste Family Value Pack With Free Toothbrush, 300g
Nu. 150
Nu. 155
Nu. 5 Off
Out of Stock
Delivery
Free delivery in Thimphu. Delivery charges may be applicable for other Dzongkhags.
Note
If you are not happy with our service or if the product is not up to your expectation, you can cancel the order on the spot when we come to deliver your order. There will not be any cancelation or delivery charge imposed for returning the goods.
Terms and Conditions
1. Prices of the products will change with time. It can go higher or lower.
2. Incase of faulty products, replacements or refund should be claimed within 24 hours after receiving the product.
3. Refund process will take 24-72 hours.
4. If delivery is required urgently, it should be mentioned while ordering the product (as a remark).
5. By ordering on Azha Pasa you agree to the above terms and conditions.
---
Product Description
Dabur Red Paste is a unique blend of traditional Indian medicine and modern pharmaceutical technology bringing out the best of both. This side effects free, effective formulation is useful for maintaining oral hygiene and keeping the gums and teeth healthy. Dabur Red Paste is packed with the power of 13 active Ayurvedic ingredients like Laung Pudina & Tomar among others that keep all your dental problems away.
Fights toothache and bad breath
Maintains fresh breath
Contains anti-inflammatory properties
Clinically tested for reduction in plaque , gingivitis & bad breath
Pack Includes : 200g Toothpaste + 100g Toothpaste + 1 ToothBrush
---
---
Shop By Categories