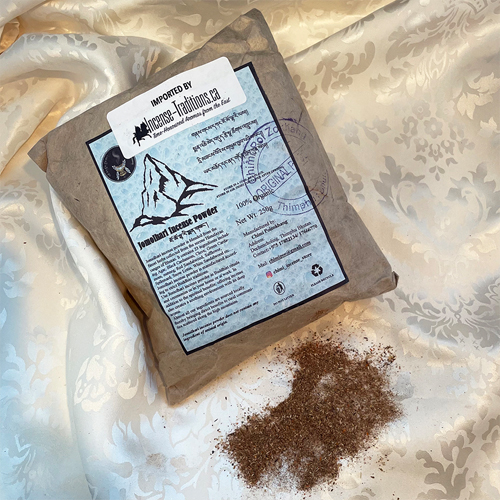 Jomolhari Incense Powder Mensang, 250g
In Stock
Free Delivery
Delivery
Free delivery in Thimphu. Delivery charges may be applicable for other Dzongkhags.
Note
If you are not happy with our service or if the product is not up to your expectation, you can cancel the order on the spot when we come to deliver your order. There will not be any cancelation or delivery charge imposed for returning the goods.
Terms and Conditions
1. Prices of the products will change with time. It can go higher or lower.
2. Incase of faulty products, replacements or refund should be claimed within 24 hours after receiving the product.
3. Refund process will take 24-72 hours.
4. If delivery is required urgently, it should be mentioned while ordering the product (as a remark).
5. By ordering on Azha Pasa you agree to the above terms and conditions.
---
Product Description
This favorite Himalaya Incense with a natural aroma is the best choice of offering. Completely based on bonpo scriptures and medical texts, it is purely hand prepared by experienced Tibetan doctors (Amchi) from well selected natural medicinal herbs and other precious substances. With this offering one's merit will increase like clouds. It cleans the environment of all bad energies, benefit 424 kinds of sicknesses, especially epidemic. It balances body elements, delights body mind, removes future obstructions. It balances two accumulations for realization, help one to be reborn with a beautiful figure, pleasant smell, to be liked by others and achieve special and common attainments.

---
---
Shop By Categories