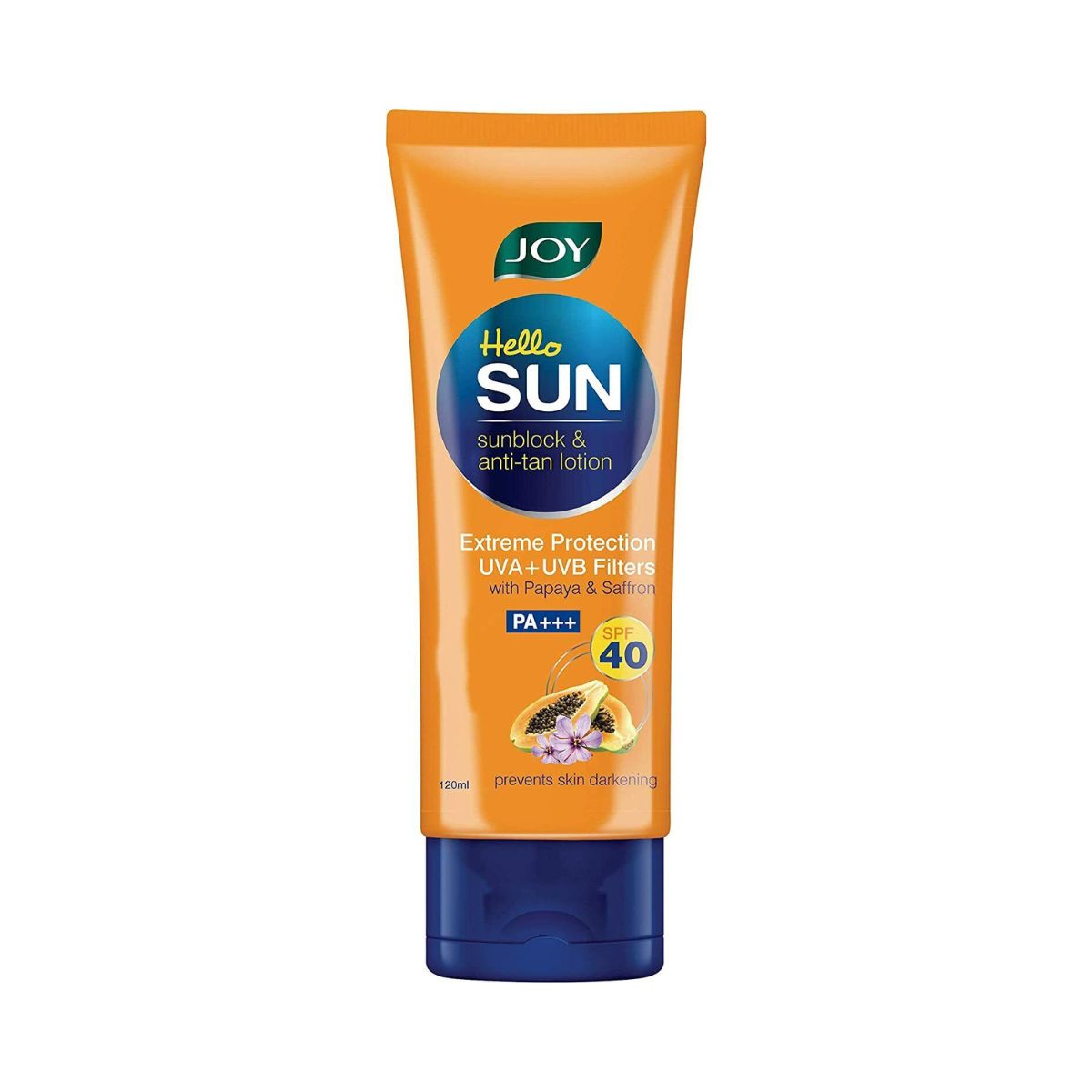 Joy Hello Sun - Sunblock & Anti-tan Lotion - Extrema Protection UVA+UVB Filters With Papaya & Saffron PA+++ - SPF 40 - 60ml
Nu. 180
Nu. 200
Nu. 20 Off
In Stock
Free Delivery
Delivery
Free delivery in Thimphu. Delivery charges may be applicable for other Dzongkhags.
Note
If you are not happy with our service or if the product is not up to your expectation, you can cancel the order on the spot when we come to deliver your order. There will not be any cancelation or delivery charge imposed for returning the goods.
Terms and Conditions
1. Prices of the products will change with time. It can go higher or lower.
2. Incase of faulty products, replacements or refund should be claimed within 24 hours after receiving the product.
3. Refund process will take 24-72 hours.
4. If delivery is required urgently, it should be mentioned while ordering the product (as a remark).
5. By ordering on Azha Pasa you agree to the above terms and conditions.
---
Product Description
SPF 40 Sunscreen lotion: The Sun Protection Factor SPF 40 blocks more than 97% of UV-B radiation, which can otherwise cause several skin problems including sunburns, tanning and pigmentations.
Lightweight & quick absorbing: The natural based sunblock sunscreen is a non-greasy, waterproof solution that blends completely with your skin and leaves no white patches, while allowing the skin to breathe freely.
Hydrating sun protection: Titanium Dioxide provides complete protection against UV radiations, visible light & infrared radiations. Glyceryl Monostearate offers excellent hydration and moisturisation.
Rely on natural goodness: Joy Sun cream lotion is formulated with Papaya and Saffron extracts. Papaya is a natural sunscreen which protects skin against harmful UVA and UVB rays. A skin lightening agent since centuries, Saffron also helps reduce inflammation, redness and irritations.
Suits all: Lovingly crafted sunscreen lotion for men and women. Go wherever the sun takes you!
---
---
Shop By Categories