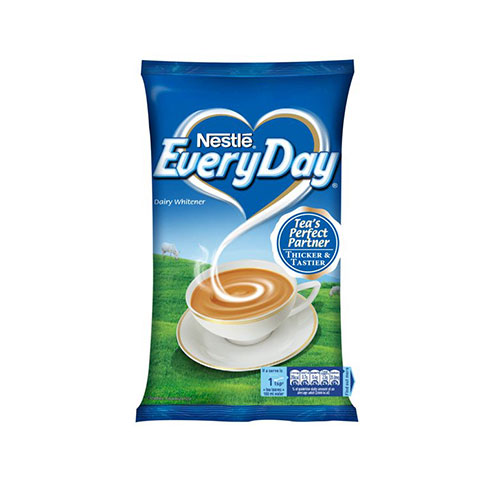 Nestle Everyday Dairy Whitener - Milk Powder for Tea - 800g
In Stock
Free Delivery
Delivery
Free delivery in Thimphu. Delivery charges may be applicable for other Dzongkhags.
Note
If you are not happy with our service or if the product is not up to your expectation, you can cancel the order on the spot when we come to deliver your order. There will not be any cancelation or delivery charge imposed for returning the goods.
Terms and Conditions
1. Prices of the products will change with time. It can go higher or lower.
2. Incase of faulty products, replacements or refund should be claimed within 24 hours after receiving the product.
3. Refund process will take 24-72 hours.
4. If delivery is required urgently, it should be mentioned while ordering the product (as a remark).
5. By ordering on Azha Pasa you agree to the above terms and conditions.
---
Product Description
Nestle everyday dairy whitener mixes in completely with your tea to lift its taste - so you get a thicker & tastier cup of tea, every time. Did you know that everyday is the No.1 selling dairy whitener in the country. Its no wonder then, that in blind taste tests consumers ranked tea made with everyday as their No.1 choice for a perfect cup of tea! We at Nestle use milk of the highest quality, sourced from well-looked-after cattle that are fed with the right nutrients. We also use our international dairy know-how to carefully dry and balance this milk without losing any of its goodness...so that you and your family can enjoy a thicker, milkier, tastier cup of tea - with everyday, tea's perfect partner! Serving Suggestion: 1 tbsp + tea leaves + 100ml water Storage: After opening, transfer the contents into an airtight container to avoid lumping. Store in a cool, dry and hygienic place.

---
---
Shop By Categories