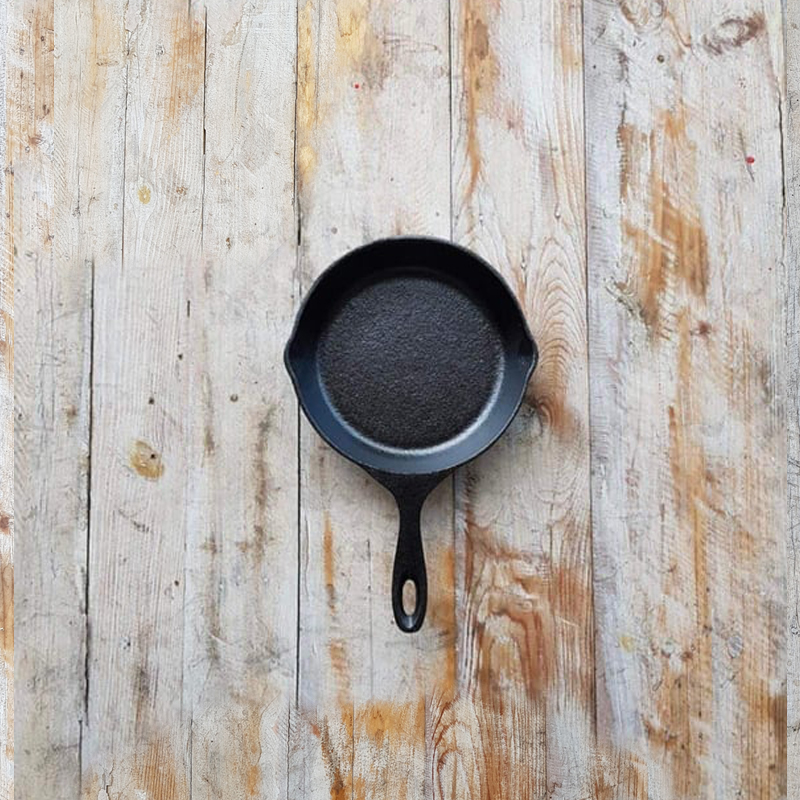 Promotional Offer König Pre-Seasoned Cast Iron Pan, 6.5 inches, 1kg
Nu. 2,674
Nu. 3,146
15% Off
In Stock
Free Delivery
Delivery
Free delivery in Thimphu. Delivery charges may be applicable for other Dzongkhags.
Note
If you are not happy with our service or if the product is not up to your expectation, you can cancel the order on the spot when we come to deliver your order. There will not be any cancelation or delivery charge imposed for returning the goods.
Terms and Conditions
1. Prices of the products will change with time. It can go higher or lower.
2. Incase of faulty products, replacements or refund should be claimed within 24 hours after receiving the product.
3. Refund process will take 24-72 hours.
4. If delivery is required urgently, it should be mentioned while ordering the product (as a remark).
5. By ordering on Azha Pasa you agree to the above terms and conditions.
---
Product Description
König cast iron skillet Our products are guaranteed to be all cast iron, seamless. It is an excellent quality product and has already been coated (Seasoning) with natural materials for you. It is also verified by a reliable inspection room that there are no harmful substances from the heat of cooking. And still not peeling if put on a gas stove as well
You can be confident that your cooking will be happy. Whether you use it in your home kitchen, restaurant or even a hotel. Can be used for cooking, frying, stir-frying, grilling, baking, savory dishes, desserts.

Our cast iron pans are recognized by many leading restaurants and hotels in Thailand.

If you are looking for equipment used in baking. Serving scrambled eggs small paella We would like you to try the König cast iron skillet. Cast iron material makes desserts. Your paella fried rice is crispy on the outside and soft on the inside.

FEATURES CHARACTERISTICS

The skin is coated with natural materials. 100% chemical free

It doesn't stick to the pan and will keep getting better. if used often
The cast iron pan has excellent heat retention.
Compatible with all types of stoves
Easy to wash by hand, wipe dry and apply vegetable oil.
Can be used with electric stoves, gas stoves, electric induction stoves. and can be put in the oven as well
Do not use in a microwave oven.
USING & CLEANING USING & CLEANING
Let's start cooking

Our cast iron pans can be used on all types of stoves, be it gas, electric, induction or even camping stoves. The only prohibition is the microwave oven.

Our cast iron pan, if you've received it, just rinse and dry it and it's ready to use, because König has seasoned it.
You can use any type of cookware, even stainless steel. because there are no harmful chemicals on the pan surface
If used on a smooth surface such as an electric stove, every time the pan is moved, it should be raised. should not move May cause marks on the pan surface.
The pan handle is hot while cooking. Should use a heat protection device to handle.
cast iron pan have good heat preservation Start with low heat to prevent sticking to the pan because it's too hot.
some kind of cooking You may need a little more oil the first few times you use the pan. Wait until the pan has a good coating and it won't stick to the pan.
cleaning procedure
Procedure
Step 1: Rinse the cast iron skillet after cooking. But do not wash while the pan is still hot as the pan can be damaged.

Step 2: Use warm water and a sponge to wash the cast iron pan by hand. to prevent the pan from getting scratched. Avoid using dishwashing liquid, soap, and steel wool.

Step 3: To remove stubborn stains from the pan, use a salt and oil scrub. At this stage, if we have a cast iron pan that is old and rusted. We can also scrub a rusted cast iron pan with salt and oil. If the stain is very ingrained, boil some water in a cast iron skillet to allow the stain to come off.

Step 4: Wipe dry and set on low heat. to remove moisture from the pan

Step 5: Use a kitchen paper moistened with vegetable oil to lightly wipe the inside and outside of the pan. to prevent rust

Step 6: Store in a dry place.

Sometimes there may be black stains coming off the cloth when wiping dry. Do not panic, no danger, 100% safe if you want to wash with dishwashing liquid. It can be used, but it must be a soft type.
---
---
Shop By Categories