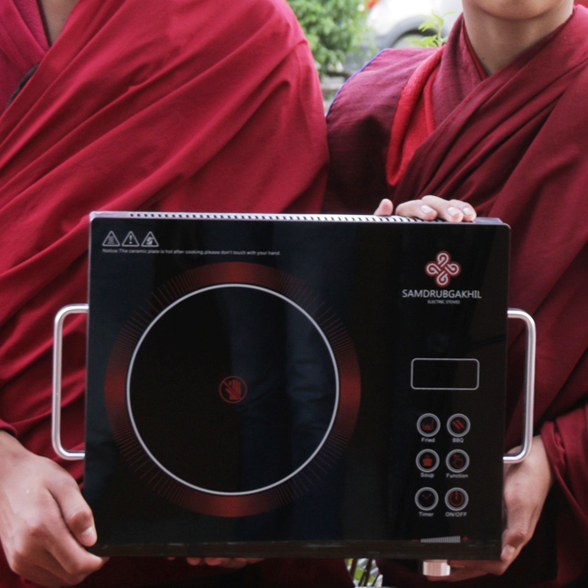 Samdrup Gakhil Electric Stove - Multi-function With All Pots - 1288 - 2200W - Single Burner. Free Delivery To All Dzongkhags via Taxi and Bus.
Nu. 3,400
Nu. 3,950
Nu. 550 Off
In Stock
Free Delivery
Delivery
Free delivery to all Dzongkhags via Taxi and Bus.
Note
If you are not happy with our service or if the product is not up to your expectation, you can cancel the order on the spot when we come to deliver your order. There will not be any cancelation or delivery charge imposed for returning the goods.
Terms and Conditions
1. Prices of the products will change with time. It can go higher or lower.
2. Incase of faulty products, replacements or refund should be claimed within 24 hours after receiving the product.
3. Refund process will take 24-72 hours.
4. If delivery is required urgently, it should be mentioned while ordering the product (as a remark).
5. By ordering on Azha Pasa you agree to the above terms and conditions.
---
Product Description
Portable Electric Stove, 200 - 2200W Infrared Double Burner. Heat-up In Seconds and Compatible With All Cookware. You have the option to check out the product before you purchase it, Azha Pasa will bring the product to you.
[WORKS WITH ALL TYPES OF COOKWARE]: Compatible with pots and pans. Works with glass, copper and frying pans, Cast-iron and aluminum and heats cookware efficiently with minimal heat loss.

[HEAT-UP IN SECONDS] Compare to hot plate burner which takes minutes to heat up, Infrared burners takes few seconds to heat up. Powered by 220V and 200-2200 Watts.

[CONVENIENT] The small scale in size makes it very portable. Ideal for dorm rooms, offices, camping, or even your RV. Great for every day use or as an extra cooking appliance in a busy kitchen. No stovetop required. Simply wipe with a clean damp cloth when cool.

[SAFE & DURABLE] No Radiation, our infrared cooktop works by far infrared heating and has no electromagnetic radiation, and therefore, it is harmless to the human body.

[WARRANTY] 6-month Warranty for quality issues with FREE replacement. 30-Day Money Back Guarantee. Customer Satisfaction is our goal.

[AFTER SALES SERVICE] Spare parts available and can be repaired easily at any repair shop.

---
---
Shop By Categories