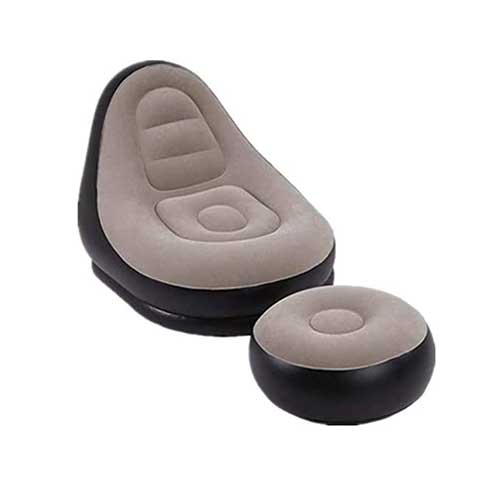 Inflatable Sofa Lounge With Foot Rest And Manual Air Pump - Grey & Black
Out of Stock
Free Delivery
Delivery
Free delivery in Thimphu. Delivery charges may be applicable for other Dzongkhags.
Note
If you are not happy with our service or if the product is not up to your expectation, you can cancel the order on the spot when we come to deliver your order. There will not be any cancelation or delivery charge imposed for returning the goods.
Terms and Conditions
1. Prices of the products will change with time. It can go higher or lower.
2. Incase of faulty products, replacements or refund should be claimed within 24 hours after receiving the product.
3. Refund process will take 24-72 hours.
4. If delivery is required urgently, it should be mentioned while ordering the product (as a remark).
5. By ordering on Azha Pasa you agree to the above terms and conditions.
---
Product Description
【EASY & CONVENIENT】- Our inflatable sofa when folded is the perfect portable size that makes it so easy to carry and store when not in use. We have also provided you with an air pump so you have a hassle-free start to a comfortable, lazy and relaxing day ahead. We recommend airing out inflatable sofa outside once opening the packaging to help get rid of the initial odor or at least lower its intensity.

【ERGONOMIC】- Our PVC inflatable sofa set is designed seamlessly with its neat and tight seams all throughout. It conforms to the human body, giving it the most natural and comfortable support for your to sit or lie down when reclined. If your feet couldn't reach the floor, don't worry! We have also provided you with a footstool so you can rest your feet on.

【DURABLE & EFFICIENT】- Designed to be closely sealed as best as it can so as to prevent air-leakage with its leakproof air plug integrated. In addition, the air plug is designed to allow air to enter easily with a large-caliber gas plug. So your sofa can be inflated and deflated quickly by just adjusting the opening to the air plug. The innovative air plug design helps keep the sofa durable - you can now enjoy your sofa for a long time and it's quick to pack once you're done!

【VERSATILE】- NOTE that power adapter may be needed. Our inflatable sofa has a wide range of uses. It is great for almost everywhere where the surface is flat and without nails, thorns, stones or any sharp objects. It is suitable for places like your living room, bedroom, garden, backyard, the park for reading, resting, watching TV and more!

【SATISFACTION GUARANTEED】: Each inflatable sofa, footstool and air pump set we sell is inspected carefully and packaged well to ensure that it's safe and of the highest of quality. If for any reason you feel that it does not meet your expectations, do reach out to us and we will get things right for you.
---
---
Shop By Categories